A marketing agency from the USA contacted us with a request to redesign a static HTML/CSS/JS template for their client. The work stretched into a redesign of the homepage after a phone conversation with the agency owner. The provided HTML static template was quite dated and wasn't really built to attract visitors to use the site.
Note: the screenshot below is one of the early suggestions, in order to completely protect the client and outsourcer's identity.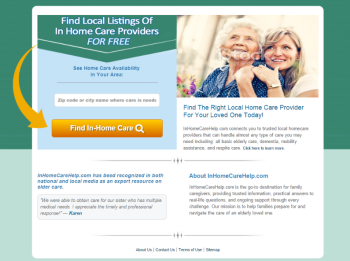 Over several conversations and several iterations, we agreed on the design and features, and we started the HTML/CSS/JS work. Within a week we had the entire site ready with all the pages pre-built. After the agency owner reviewed the site (we set up a subdomain so he can review the work and test the mechanisms) we uploaded the files onto the end user's hosting account.
This was a turnkey solution for the marketing agency. Other than offering feedback on several redesign suggestions they were completely free of any work on this project. Naturally, their clients were happy with the result. Another happy business using our services, and chances are they don't even know it.