Got a client complaint today on our monthly call, asking us to stop working on their Google Ads, or at least cut down on work.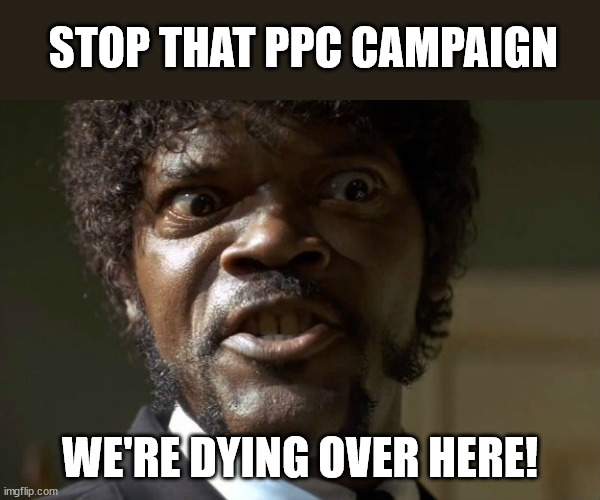 '
This is a resort/campus, with 7 buildings and about 250 total guest capacity with a catered restaurant that seats about 350. They're a resort in the mid-west.
This is a client that is outsourced to us by a local agency. We've been doing web development for this Canadian agency for a while now, and we expanded services in copywriting, landing pages, Google Ads (PPC) and Facebook Ads a few months ago.
When we took over this Resort account, we found that their Google Ads isn't set up properly. We rebuilt the account with new ads, and built a proper landing page, instead of sending traffic to the Homepage. There was some pushback during the copywriting and layout of the landing page, but we managed to help the client understand why we recommend doing it this way. It's been a bumpy ride, which is nothing strange since the client has never worked with us, and the outsourcing partner never saw how we do PPC management either. So it was a situation that required a certain softness of touch in order not to break the house of cards.
Today, on our monthly call, the client's resident marketer said that we should stop doing work, or scale back a bit… because they cant keep up with the calls. They're sold out completely, for the past 2 months in a row.
He said, "we've never had such an intense season, ever." And the resort is established way back in 1920.
Plus, he said, "we've never had such a busy autumn bookings like we do now. We're not full yet, but this has never happened before. Nothing happens in November. It's a dead season for us."
Keep in mind, we haven't even started with the Autumn campaigns, except for a few blog posts aimed at a very specific reader persona, with a very specific offer-idea.
In just a few months, and a total of about $4000 in PPC, we've helped this client to increase their annual revenue by $200.000 SOFAR. And we still have 5 more months of the year.
The more important thing though, is that we took those $4000 PPC budget, and brought them 1160 clients in these past 2 months. That's only $3.44 per client.
These clients will want to come back again, and again, and again. Customer lifetime for resorts is at least 3 seasons.
Plus all the social buzz from all these clients taking selfies, sharing pics with their friends and family.
We don't want to pose as The PPC Rocket Scientists, mostly because I actually studied rocket science back in my university days, and these two have nothing in common. But we do know our stuff, and we clearly do make PPC campaigns take off to such extent that clients then beg us to do less of what we do.
If you're looking for reliable PPC management for your campaigns, or you're a digital agency looking to expand your capacity with a proven team, let's chat.