Top-Level Lead Generation Done-For-You Service Let us bring in the leads, so your team can close the deals.
Personas. Structure. Deployment. Response. Finetuning. There is a lot to this thing called Lead Generation.
It goes way beyond just organic traffic and landing pages. Beyond just Google and Facebook Ads. Beyond just email lists and ascension tracks.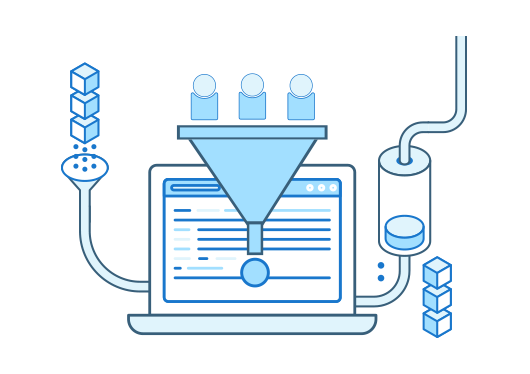 It's Easy To Get Lost In The Woods, And Miss The Forest
Lead Generation and Sales Funnels are a blend of art and science, and both ingredients must be strong to be effective. Producing, deploying, and monetizing on a Lead Generation campaign is, in itself, a project management skill.
It's not just the landing pages that require skills. Yes, you have to write the content. You have to design the pages. You have to figure out a way to send traffic in. But before you even hit one single keystroke, you need to have a clear picture of what you sell, who you sell it to, why they'd buy, and what goes on after a prospect becomes a client.
So many agencies rush to get the details done that they forget to address a very key question: Where are we going with all this leadgen and sales funnel thing?
Painful Disclaimer For Agencies and Business Owners
There's an entire industry that's growing around the idea of lead generation systems, that we dearly call leadgen funnels.
We see these funnels as something that more or less, works on itself. Fully automated, with little effort on the authors, and on the prospects that are moving along in that funnel. You pour in 100 cold traffic folks in the funnel, and presto, you've got yourself one or two sales.
Not so fast, I'm afraid.
You see, seasoned marketing agencies will know (and point out) that the customer journey through a funnel doesn't resemble a funnel where "gravity" works in your favor. It's actually anything but a funnel.
Consider that for a person to move through from a Newcomer to a Return Client, it's arduous work on their end. And for a cold traffic visitor to take a single step toward conversion, you have to give them a very good reason to do so. This step won't happen automatically. People won't just do stuff for you without you first answering them a very simple question: What's In It For Me?
The conversion journey is not through a funnel where stuff just happens. It's a long and hard climb on a pyramid.
Each level up, you have to give your prospects a very good reason WHY they should put in the extra effort. They don't see the big reward on the top of the pyramid. All they see is yet another difficult level to climb up to.
And this is not easy. Gravity doesn't work for you. In fact, everything works against you while you try to move people deeper/further in the conversion journey.
So while we do adopt the term Leadgen Funnel and Sales Funnel here at WebMaxFormance, we are very clear on the fact that it is not a funnel at all. It's a pyramid. And we build our customer journeys accordingly, with plenty of micro-conversions along the way.
Opportunity Costs Are Expensive
When you or your employees are trailblazing through a Lead Generation project "in-house," you are likely paying for opportunity costs. In other words, while your team – even your marketing team – is trying to hack through the jungle of sales campaigns, keep in mind that they are still on the clock, and they may be in fact costing you more because of lack of experience and expertise.
Also, hiring new employees who have these niche Sales Funnel skills is usually cost-prohibitive. When you employ this type of expertise, you are limiting your ability to hire others whose skills are more closely aligned with your core business.
In a growth-stage for a company, a hiring focus is paramount.
Navigate The Sales Funnel Jungle With WebMaxFormance Expertise
This is where expertise really pays off. If you were a digital marketing firm, you would probably have several experts that will be able to set up all the moving parts of a leadgen system. But you are probably not a digital marketing firm (if you are, we would still love to help:).
WebMaxFormance can "solve this" for you. We have navigated the sales funnel jungle before, and we can do it for your company.
In economics, they call it economies of scale. At WebMaxFormance, we call it, "We already know how to do this, because we have done it a lot!" We have built efficiencies, and we can save you a ton of effort.
WebMaxFormance handles the process by:
Identifying the Persona of your client.
Creating a Message to Market Match.
Developing content and landing pages to take that ideal client on a sales journey.
Creating the "roadmap" for the sales funnel/email campaign.
Setting up the CRM / Chat capability, so that your company can properly respond.
Delivering graphics and videos to support the whole thing.
Whereas steps 5 and 6 are more technical in nature, it is in steps 1, 2, 3 and 4 where the specialized skills at WebMaxFormance shine.
Identifying the persona of your client involves a mix of analytics and experience. Matching your message to resonate with the market is artful science. Writing and building the landing pages takes a combination marketing-writing and subtlety. And building the roadmap for the Sales Funnel can be… complex.
If we have the chance to provide this "done for you" service, you can expect a turn-key, finished product in the form of an effective Sales / Lead Generation funnel.
Reliable Lead Generation System Will Transform Your Business
The key word in the subtitle above is "reliable." When the Internet is properly utilized for sales, it can bring in a significant and positive change for your company. This is obvious, but the internet is huge. And it can result in a huge sales transformation for you.
If you mobilize WebMaxFormance Lead Generation services for you, your employees can get back to doing your core business – serving your customers, producing your product or service – and they can focus on the areas where they have expertise.
By now, you have already moved past the unrealistic idea of funnels. We don't expect that prospects will immediately buy your product or service the first time they encounter your company (although it can happen).
Our content and Sales Funnel creation is built around the idea that people are on a sales decision journey. Your company's online presence can be one that conveys class, and that values respect for the potential customer.
When was the last time that you personally enjoyed a pushy salesperson? Your clients probably feel the same way.
Because WebMaxFormance works to align and focus on the right "type" of customer – aiming at the right persona – your ROI from Lead Generation efforts can significantly improve.
How Can You Get Sales Funnel Or Lead Gen Service From WebMaxFormance?
This is the easy part. If you have questions, send us an email, or read some of our blogs.
If you want to get your people back to doing their jobs, let us do Lead Generation for you.
If you still want to learn more about WebMaxFormance, that's OK too!
Schedule Your Consultation Today.