If you've ever encountered a major website project, you already know how much strategic thinking goes into every step: the web design, the sitemap, the performance… But, have you ever thought about how really accessible is your website to ALL users?
Have you ever heard about ADA Compliance (Americans with Disabilities Act), 508 Compliance or Website Content Accessibility Guidelines (WCAG)?
For those that have never heard about ADA Compliance, it stands for Americans with Disabilities Act which states that all electronic and online technology must be accessible to people with disabilities. Basically, this act provides people with disabilities "equal opportunities."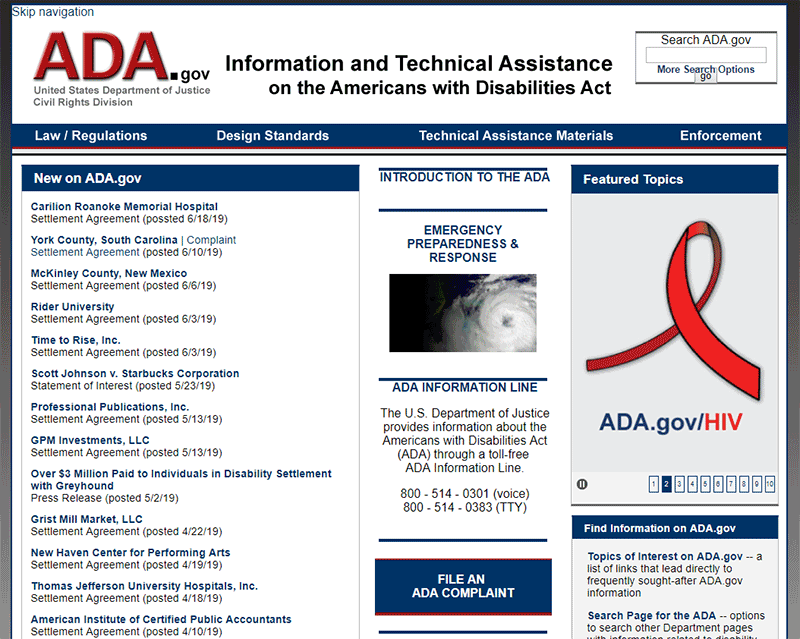 ADA – Information and technical assistance
In the real world, this refers to the physical accommodations businesses must comply with ADA design standards (as building construction and modifications).
While we are all familiar with these requirements, many people still don't know that the same standards apply to the digital world. Having an ADA compliant website means that people with disabilities will be able to access content to your website with the same ease as people without disabilities.
As an online business, you are obliged by law to remove any technical obstructions that may discriminate against people with disabilities. Failing to comply with ADA standards may result in penalties or even a lawsuit.
To see how serious this compliance is, let me share a story about why Mary Conner, a New York woman who is visually impaired, decided to file a lawsuit against Beyonce's website.
The Danger of Non-Compliance: Mary Conner vs. Parkwood Entertainment LLC
In January 2019, Beyonce's official website was hit with a lawsuit by Mary Conner for violating the ADA Compliance by failing to provide visually impaired people with equal access to the website's features.
The lawsuit states that Conner visited beyonce.com to purchase some of her products but discovered that the "exclusively visual interface" of the website presented "numerous barriers which limited her accessibility to the goods and services offered on the website."
Let's go into more detail and see what beyonce.com lacks, according to Mary Conner's lawsuit:
Lack of Prompting Information on the Forms – The website forms lack proper prompting text (ex. "click here to buy"). Currently, beyonce.com store uses just help text which screen readers are not able to read. This makes it impossible for visually impaired people to buy something without the help of a sighted person.
No Alt Text Coded Into Images – The alternative (alt) text is a text description about an image. This is read by a screen reader to help visually impaired people to discover what the images are representing. Without alt text, visually impaired people can't know what you have on your website let alone make a purchase.
Absence of Keyboard Access – To help visually impaired people easily navigate websites, the screen reading software uses keyboard movement in place of mouse movement. The lack of keyboard access on beyonce.com makes it impossible for visually impaired users to have equal access as a sighted individual.
Lack of Accessible Drop-Down Menus – Visually impaired people are unable to select the quantity or the size of the product without accessible drop-down menus. Also, without a proper alt text in place on these menus, visually impaired people are unable to navigate from page to page.
Because of these reasons, Conner is asking for changes to beyonce.com (through a lawsuit) to allow visually impaired people to fully access its features. Also, she's asking for compensation for damages for the current website's discrimination towards visually impaired individuals.
This lawsuit made many online businesses evaluate their websites and ensure they have an ADA compliant website. But, it also raised a more important question:
Are we all doing enough to make sure our websites are providing a great online experience to all of our users?
How To Make Sure Your Website Is ADA Compliant
Let's do a quick check-up so you can see if your current website is ADA compliant:
You have text alternatives to non-text content like buttons, images, charts, input fields, graphics, and anything else that is vital to the user's experience.
You provide captions for videos, recorded audio and live streams or broadcasts, you have alternative text and provide sign language interpretations for different types of media.
Your website is accessible by a keyboard so that disabled individuals can use the "Tab" key to move from field to field, instead of using a mouse or a touchpad.
Your website is easy to navigate and you're using clear indicators such as large-font text for controls and buttons, you're clearly marking headers and menu options, and you keep your website content logically organized.
You're avoiding bright flashing graphics and audio-visual content with a fast montage to protect your users from potential seizures.
You use alternative text for all of your images, videos, and other multi-media content.
You provide closed captioning on your videos for the deaf community.
You're tagging properly the PDF documents so that the screen readers can properly interpret any non-HTML content.
You're following the web development best practices and standards to ensure that your website content displays properly for all users.
These are just a few of the many requirements your website should follow to provide individuals with disabilities with the same experience as every other person.
Now, if you have experience in building ADA Compliant websites you can optimize your website yourself (or you already have). If not, the smartest move will be to hire an experienced agency to make the audit of your website.
If you already did the first step toward becoming a normal business in the 21st century and checked your website for ADA Compliance, thumbs up for you. You're doing a great job. Just keep finding ways how to improve your website in every aspect cause it works for you 365/24/7.
But, if your site still isn't ADA Compliant then you should be concerned. Really concerned.
You are under legal, financial and social risk. And you must act fast to change this.
To make sure that you have an ADA compliant website and 508 compliant (if you are or work with federal agencies), WebMaxFormance provides a comprehensive audit to ensure that your site meets the ADA requirements for your industry.
Don't be fooled into thinking that you are flying under the radar if you run a small-to-midsize business. There are reports online that lawyers are making a career out of suing non-compliant website owners.
Having an ADA compliant website means you're safe from potential litigation and that all of your users could have the same experience while browsing your site.
Conclusion
This lawsuit holds some important lessons on inclusivity and accessibility when it comes to a website build.
The Internet has long ago become a huge part of our life. We use it practically for every step of online purchasing from product research to ordering.
Still, we live in a highly visual world where many online customers respond better to videos and images than they do to text. But, have you ever heard that there are 54 million people with disabilities only in America or around 19% of the US population? Just think about how many people are out there are struggling to buy a ticket, hoodie or whatever product or service on your site just because your site has so many barriers for people with disabilities.
People with disabilities want to shop online just like the rest of us. But the ability to successfully make a purchase depends on how compliant is your website.
Businesses need to be careful about how impaired individuals will be able to use their websites. Things like enabling keyboard controls over the mouse, having alternative text where needed, and having accessible drop-down menus may sound like small details, but they make a huge difference to people with disabilities when interacting with your website.
So, if you're thinking of revamping your website or you just want to ensure you provide the same experience to all of your users, make your website ADA Compliant today!