Why we like Elegant Themes so much and why they are our TOP recommendation? The answer is simple – because of their premium quality WordPress themes.
We are proud customers of Elegant Themes for many years now and what we really like most about them is their nice and clean design.
On Elegant Themes, there are 10 different categories of themes you could choose from and those include:
App
Blog
Business
eCommerce
Magazine
Multimedia
Personal
Portfolio
Responsive
Tumblog
There are 87 themes listed in the Elegant Themes repository and you can access them ALL with a small payment of $69 per year ($89/year and $249/one time). Definitely one of the best prices on the market for premium WordPress themes
However, from ElegantThemes we only use the Divi theme, so the award-winning theme of our WMF Academy will be: DIVI
Start by downloading the Divi theme from the Elegant Themes members area.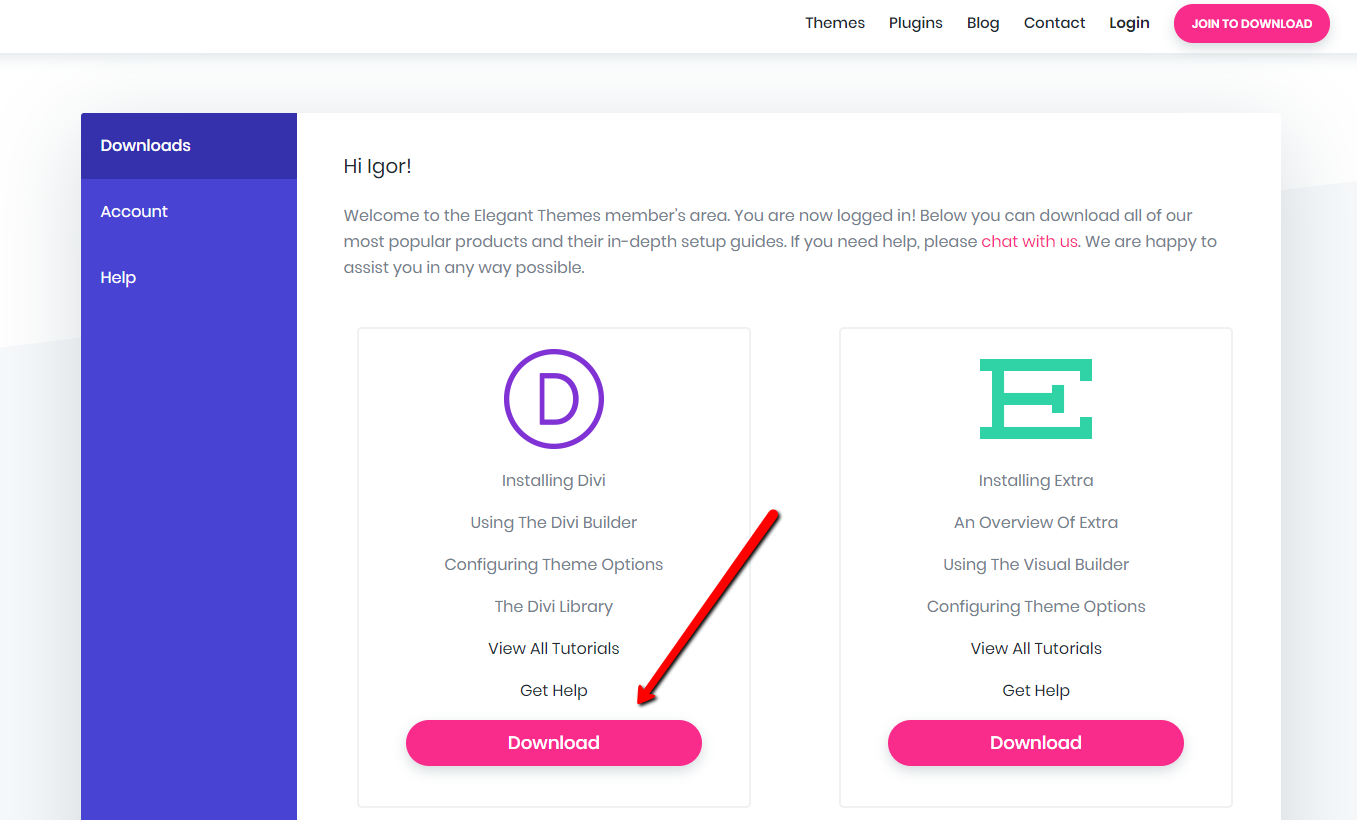 Go to your WordPress dashboard. Appearance -> Themes -> Add New -> Upload Theme -> Choose File.
Choose the downloaded zip file and click on Install Now. 

Premium Divi Theme Features
With the Divi theme (as well as with the other Elegant themes) there is a page builder that can help you to easily build up any page you desire using different components to display the content you exactly want. The standard WordPress page can be transformed into a beautiful full-width landing page with really nice features.
When we work on some client's site which is no that design heavy, we use the Divi builder each and every time. There is so much you can do with this builder so we dedicated complete separate lesson for the Divi builder. So we recommend using the Divi builder on not so heavy websites. For more complex designs we are using Visual Composer.
The Divi theme is 100% Responsive. This means that your website will always be fully mobile friendly.
The nice touch to the Divi theme are the pre-made templates. The "Divi Builder" also comes with a bunch of pre-made templates which you can use to create amazing looking, professional pages.
This is your "dashboard" for your theme where you can:
Edit the layout
Arrange navigation
Add media (logo, banners, favicon, social media buttons)
Integrate codes in the <head> and <body> such as Google Analytics and other verification codes.
Integrate ad banners in the sidebar, header, footer in your pages and posts.
Add SEO titles, meta tags, meta keywords (Although we will be using a different plugin for this… See SEO Copywriting section)
The theme customizer in Divi has a lot of settings for easily customizing your website.
In General Settings you can change:

Site identity (your website title, tagline, and favicon)
Layout Settings (where you can enable boxed layout, content width, sidebar width, theme color etc.)
Typography (body and head text size, fonts, link colors etc.)
Background (background image and background color)
Header & Navigation

Header Format (Header style: Default – logo on the left navigation on the right; Centered – Logo on the center and navigation below also centered; Centered Inline Logo – logo between the navigation on the center)
Primary Menu Bar (Making the menu bar full width, hiding the logo, giving size of the logo, changing the font of the navigation, etc.)
Secondary menu bar (the same customizations as the primary menu bar)
Fixed Navigation Settings (customizing the fixed menu height when a user scrolls down the website)
Header Element (Show or hide search and social icons in the header)
Footer

Layout (column layout for the footer: ex. footer split on 3 columns)
Widgets (the text size of the widgets, font color and style, link and widget header color)
Footer Elements (Show or hide social icons in footer)
Footer Menu (Footer background color, text color, link color, letter spacing, font size…)
Bottom bar (background color of the very bottom bar, text color, social icon size, and color)
These were just our most used customizers in the Divi theme. Furthermore, you can spend some time checking the other theme customizers for maximum extending the usability of your website.
The Support
Elegant Themes also offer their own "members only" support forums, for discussing tech-related topics. This is exactly what you want when dealing with professional WordPress themes!
Final Words
So this was our first and TOP recommended pick of a theme for your professional WordPress membership site. It is a very light theme with a possibility to extend it to its full potential. But if you want to discover alternative theme options you can follow the theme recommendations in our Advanced WordPress training.